School Profile
St James belongs to the Parish of St John the Evangelist Mitcham. It is significant that the two schools in the parish should be called St John's and St James, because  of the fact that the two saints were brothers. The school was established in 1970 with classes from Prep to Grade 2. The Sisters of St Joseph were in charge, with 82 children and 3 teachers.  The school now has an enrolment of 350 students in 14 grades P-6.  We have two straight grades at each level.
St James is located at 51 Centre Road, Vermont. The spacious grounds include an oval, large grassed playing areas, attractive gardens, adventure playgrounds, synthetic surface netball courts and a large quadrangle where assemblies are held. The school buildings are in two separate blocks and include a Community Centre/Multi Purpose Area and a modern, computerized Resource Centre.  Our new 21st Century contemporary learning spaces allow us to cater for all within our community and most importantly will assist in helping students to immerse themselves in contemporary, purposeful inquiry.
The curriculum features a strong emphasis on Religious Education, Numeracy and Literacy.  Each term the students explore an Inquiry Unit of work. Specialist classes are as follows Physical Education, Visual Arts, Performing Arts, Auslan and STEMMS. We have  a range of extra curricula activities  for students including instrumental music classes, marathon club, gardening club, passive play, school choir and outdoor education.
At St James, we strive to live out our Vision.  We aim to promote within our students, indeed all our community members a love for learning.  Our concern at St James is to educate the whole person. The religious, social, academic, physical and emotional aspects of our students are vitally important and we endeavour to have each child reach their potential. As part of a strong, vibrant Parish community we strive to ensure our Faith is nourished. The values of the Gospel are the mainspring of all we do. We strive to ensure there is strong sense of belonging for each member of our community.
Our parent community works very closely with the school. Parents' vital and valuable contribution to the education of their child/ren assists in building a strong school /home partnerships.  Our school has an excellent reputation in the wider community. We continue to achieve well in academic, community, sporting and arts spheres.  We offer OHSC and a range of extra curricula activities.
With dedicated staff and supportive parents, St James school is a learning community which invites success in a challenging yet friendly environment.
School Prayer
Loving God,
We thank you for our community of St. James
We thank you for our Parish of St. John's
Be with us, as together
We seek the Spirit,
Learn to love,
Love to learn,
And live life to the full,
Caring for each other and
Caring for our environment
St. James the Apostle
Pray for us
St. John the Evangelist
Pray for us
Year Levels:  Prep to 6
Enrolment:  339
Principal: Mr David Mutimer
Phone No: 9874 1830
OSHC Number: 0435 390 167
Hours: 7 – 8.30am, 3.20 – 6.15pm
Email Address: principal@sjvermont.catholic.edu.au / office@sjvermont.catholic.edu.au
Diocese: Archdiocese of Melbourne
Zone: Outer Eastern
Parish: Mitcham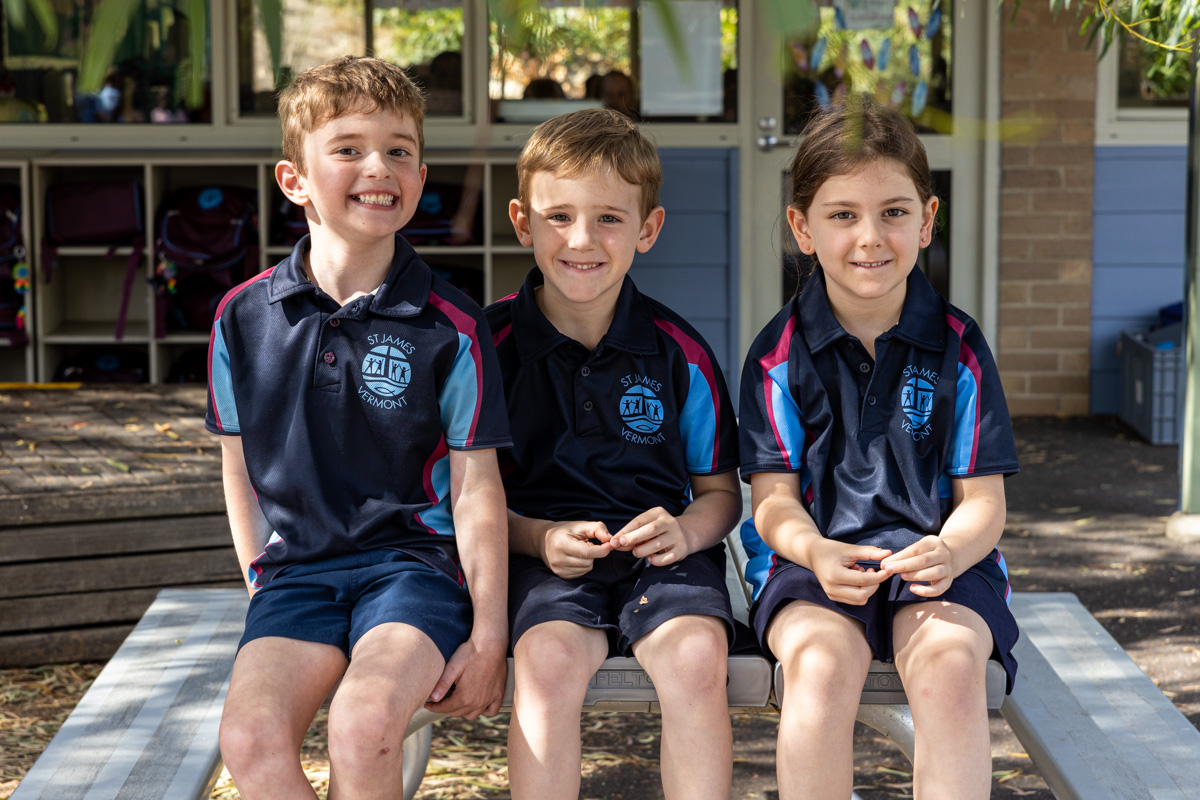 Online Tour
The best way to start learning about us. We have professionally produced dozens of videos showcasing our amazing school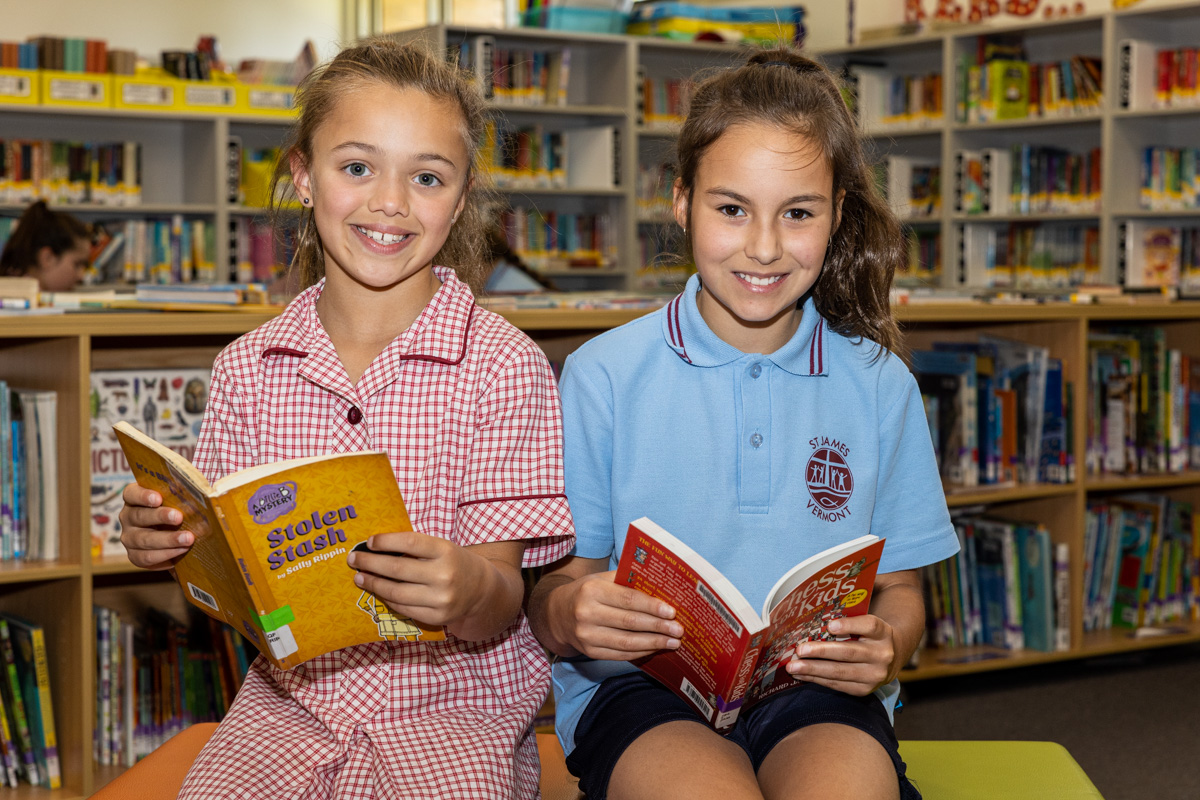 Book a School Tour
The best way to meet us! We can show you around our beautiful school and answer any specific questions you have.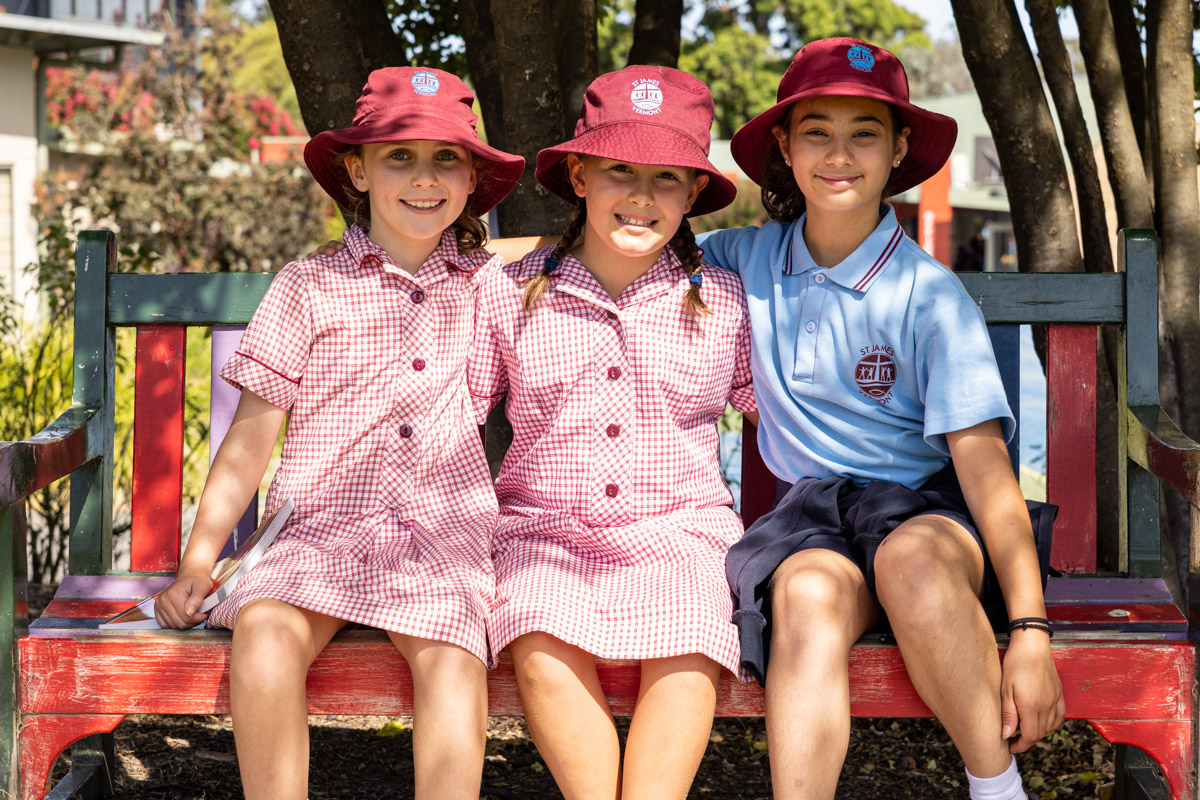 Upschool
UpSchool is a free and growing resource and our way of sharing positive and inspiring messages with our community. Website design, graphic, videos & photography by Digital Schools |  www.digitalschools.com.au  |  Copyright Digital Schools. All Rights Reserved